Galvanized Welded Wire Mesh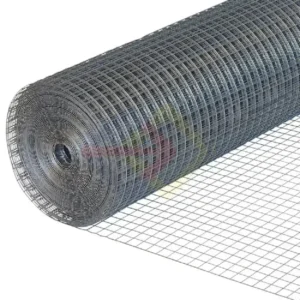 Galvanized Welded Mesh is also called as ( GI Mesh )  which is manufactured from metal wires welded at their intersections. By using different diameter wires it can be made into a light or heavy gauge product. It is manufactured in mild steel, galvanized, and stainless steel.  
Galvanized Welded Mesh can be produced as electric or hot dip galvanized welded mesh. Besides the nature of coating, processing of these mesh also have different methods – galvanized before welding and galvanized after welding.
Electric galvanised steel mesh has zinc coating usually. It is commonly used in Industry, Building Construction, Mining etc.
Hot dip galvanized welded mesh has more zinc coating. The quality is much better and is usually used in External Wall Thermal Insulation System, Concrete Pouring Purpose, Poultry Farm, Oil & Chemical usage etc.
Application:
In construction in the form of reinforcement brick mesh, welded bar gratings or wire mesh sandwich construction.
Product Specification Chart
Galvanized Welded Wire Mesh Roll

16G, 17G, 18G, 20G, 22G, 25G
Galvanized Welded Wire Mesh Sheet

2.5 mm, 3 mm, 3.5 mm, 4 mm

2.5 mm, 3 mm, 4 mm, 5 mm, 6 mm, 8 mm